Daily quest
There are many Daily Quests, or "Dailies", in ArcheAge. They grant the same reward each time you do them. There are many different kinds of Dailies, such as the Blue Salt Brotherhood, Ayanad Library, PvP/PvE and signpost dailies.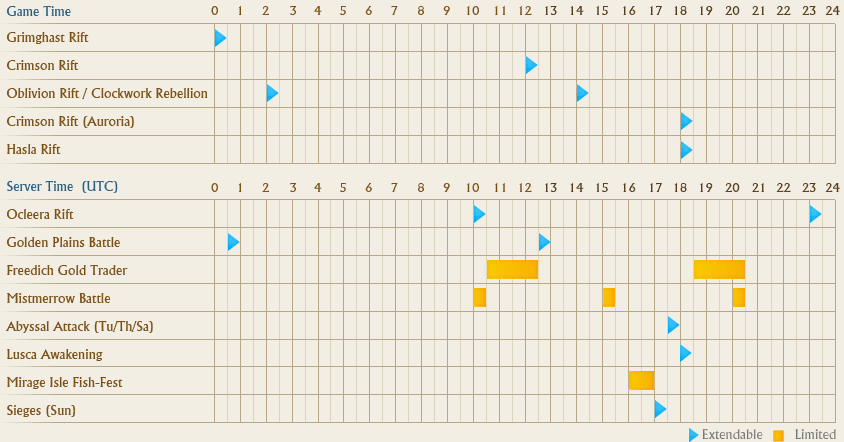 This schedule shows some of the popular events in ArcheAge. Note that some are in Game Time, and some are in real time.
Raising a Wild Snowlion

Raise the Wild Snowlion Cub in the Falcorth Plains Public Stable.
Raising a Malfunctioning Leomorph

Raise the Malfunctioning Leomorph Cub in the Arcum Iris Public Stable.
A Rare Perfume

Use the Pestle and Mortar to craft a Condensed Scent (requires 30 of either chopped produced, dried flowers, ground grain, or ground spice).
Collect Hellhound Leashes

Collect 12 Hellhound Leashes outside Palace Cellar.
Guerilla Marketing

(Must Complete A Rare Perfume first)
Place 3 flower vases around Tigerspine Mountain.
Rewards 3462 XP, 1 .
To the arena!

(Must Complete ??? first) Use a Trebuchet Construction Site.
Rewards 4215 XP, Mysterious, 1 .
Kill Akmit With a Mentor (Level 18-29)

Kill Akmit with a party member who has the Kill Akmit With a Mentee quest.
Rewards 1 
Kill Akmit With a Mentee (Level 30+)

Kill Akmit with a party member who has the Kill Akmit With a Mentor quest.
Rewards 3 
Kill Marmas With a Mentor (Level 30-39)

Kill Marmas with a party member who has the Kill Marmas With a Mentee quest.
Rewards 3 
Kill Marmas With a Mentee (Level 40+)

Kill Marmas with a party member who has the Kill Marmas With a Mentor quest.
Rewards 3 
Kill Okape with a Mentor (Level 18-29)

Kill Okape with a party member who has the Kill Okape with a Mentee quest.
Rewards 1 
Kill Okape with a Mentee (Level 30+)

Kill Okape with a party member who has the Kill Okape with a Mentor quest.
Rewards 3 
Kill Hieronimus With a Mentor (Level 31-39)

Kill Hieronimus with a party member who has the Kill Hieronimus With a Mentee quest.
Rewards 3