We're Getting Mutants in the MCU - The Loop
Play Sound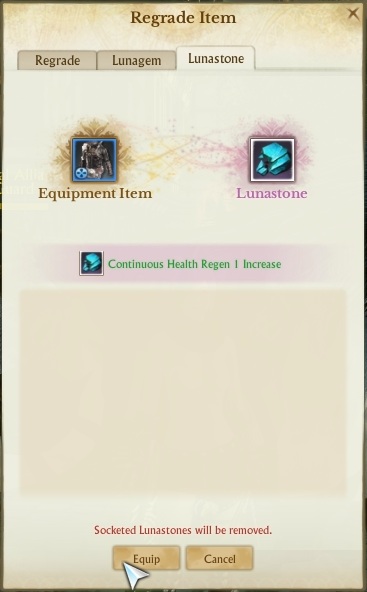 A Lunastone is a type of Enhancement
Can be obtained by Alchemy, bought in the Cash-Shop, and the Honor Points Shop.
Applying a new Lunastone to an item that already has a Lunastone Enchant on it will erase the old Lunastone, and any previously socketed Lunagems will be lost.
There are 3 known types of Lunastones:
Applying Lunagems
[
]
To apply Lunastones or Lunagems to your equipment, you:
Right clicking the Lunastone/Lunagem in your inventory to open the UI, or open it manually be clicking the little sword that shines in the bottom right of the inventory selecting the tab you need.
Right click the materials or drag the items in their respective slot,
Equip at the bottom of the UI and you should get a message that says Lunastone Socket: Success.
Table of Lunastones
[
]
Purchasable with Honor Points
[
]
| Lunastone | Stat + increase | Slot | Price (HP) |
| --- | --- | --- | --- |
| Focus | Focus 375 Increase | Chest, Legs, Feet | 4000 |
| Ethereal | Resilience 320 | Chest, Legs, Feet | 4000 |
| Experienced | Touchness 335 Increase | Chest, Legs, Feet | 4000 |
| Tranquil | Delayed Cast time when hit 10%, 20%, 30% Decrease | Head | 400, 800, 2000 |
| Intuitive | Stealth detection 10%, 20% Increase | Head | 300, 600 |
| Warrior | Received Damage 1.0%, 2.0%, 3.0% Decrease | Chest | 500, 1000, 2500 |
| Blessed | Received Healing 5.0%, 10.0% Increase | Chest | 500, 1000, 2500 |
| Precision | Melee critical Damage 6%, 16%, 24% Increase | Hands | 400, 800, 2500 |
| Calm | Magic Critical Damage 4%, 10%, 16% Increase | Hands | 400, 800, 2500 |
| Agility | Ranged Critical Damage 6%, 16%, 24% Increase | Hands | 400, 800, 2500 |
| Guardian | Melee Skill Damage 1.0%, 1.6%, 2.0% Increase | 1-H Gear Right Hand | 800, 1200, 3000 |
| Prophets | Magic Skill Damage 1.0%, 1.6%, 2.0% Increase | 1-H Gear Right Hand | 800, 1200, 3000 |
| Ruler | Melee Skill Damage 1.5%, 2.4%, 3.0% Increase | 2-H Gear | 1000, 1500, 4000 |
| Conqueror | Magic Skill Damage 1.5% 2.4%, 3.0% Increase | 2-H Gear | 1000, 1500, 4000 |
| Sniper | Ranged Skill Damage 1.0%, 1.6%, 2.0% Increase | Ranged Gear | 1000, 1500, 4000 |
| Warden | Melee Damage 15 Increase | Left Hand | 3000 |
| Last Line | Magic Damage 15 Decrease | Left Hand | 3000 |
| Shield-Bearer | Ranged Damage 15 Decrease | Left Hand | 3000 |
| Patience | Melee/Magic/Ranged Damage 10 Decrease | Left Hand | 3000 |
| Augur | Healing 1.0%, 1.6%, 2.0% | Right Hand/Left Hand | 800, 1200, 3000 |
| Confessor | Healing 1.5%, 2.4%, 3.0% | 2-H Gear | 1000, 1500, 4000 |
Craft or Purchase with Gold
[
]
| Lunastone | Stat + increase | Slot |
| --- | --- | --- |
| Insightful | Cast Time 1.0%, 1.5%, 2.0% Decreased | Head |
| Waterdrop | Holding Breath 10, 20, 30 sec Increase | Head |
| Vigorous | Continuous Health Regen 1, 2, 3 Increased | Chest |
| Vital | Continuous Mana Regen 1, 2, 3 Increased | Chest |
| Blade | Melee Critical Rate 1.0%, 1.5%, 2.0% Increased | Hands |
| Arrow | Ranged Critical Rate 1.0%, 1.5%, 2.0% Increased | Hands |
| Flash | Magic Critical Rate 1.0%, 1.5%, 2.0% Increased | Hands |
| Assassin | Move Speed 1.0%, 3.0%, 5.0% Increased | Feet |
| Wave | Swim Speed 4.0%, 8.0%, 12.0% Increased | Feet |
| Lynx | Fall Damage 10.0%, 20.0% Increased | Feet |
| Chaos | Melee Attack 2.0, 3.5, 5.0 Increased | 1-H Gear, Right Hand |
| Nova | Magic Attack 2.0, 3.5, 5.0 Increased | 1-H Gear, Right Hand |
| Roar | Aggro 4.0%, 8.0%, 12.0% Increased | 1-H Gear, Right Hand |
| Destruction | Melee Attack 3.0, 5.0, 7.5 Increased | 2-H Gear |
| Eternal | Magic Attack 3.0, 5.0, 7.5 Increased | 2-H Gear |
| Lightspeed | Ranged Attack 2.0, 3.5, 5.0 Increased | Ranged Gear |
| Willful | Defense 67, 131, 270 Increased | Left Hand |
| Barrier | Shield Block Rate 1.0%, 2.0% Increase | Left Hand |
| Grace | Healing Power 2.0, 3.5, 5.0 Increase | Right Hand, Left Hand |
| Charity | Healing Power 3.0, 5.0, 7.5 Increase | 2-H Gear |
| Perfect Fire | Increased Strength +4 with every attack, stacking up to 5 times. Increases all Attacks +3 when max number of stacks is reached. | Back |
| Perfect Gale | Increased Agility +4 with every attack, stacking up to 5 times. Increases all Attacks +3 when max number of stacks is reached. | Back |
| Perfect Wave | Increased Intelligence +4 with every attack, stacking up to 5 times. Increases all Attacks +3 when max number of stacks is reached. | Back |
| Perfect Life | Spirit +10, Gives magic attacks a chance to regen MP | Back |
| Perfect Earth | Stamina +10, Has a chance to regen health whenever an attack is received | Back |
Loyalty Lunadrops and Lunafrosts
[
]
| Item | Loyalty | Tradeable? | Type | Description | Restriction |
| --- | --- | --- | --- | --- | --- |
| Blessed Earth Lunadrop | 50 | Yes | Lunadrop | Stamina +8 | Armor |
| Blessed Fire Lunadrop | 50 | Yes | Lunadrop | Strength +8 | Armor |
| Blessed Gale Lunadrop | 50 | Yes | Lunadrop | Agility +8 | Armor |
| Blessed Life Lunadrop | 50 | Yes | Lunadrop | Spirit +8 | Armor |
| Blessed Wave Lunadrop | 50 | Yes | Lunadrop | Intelligence +8 | Armor |
| Astral Earth Lunadrop | 65 | Yes | Lunadrop | Stamina +9 | Armor |
| Astral Fire Lunadrop | 65 | Yes | Lunadrop | Strength +9 | Armor |
| Astral Gale Lunadrop | 65 | Yes | Lunadrop | Agility +9 | Armor |
| Astral Life Lunadrop | 65 | Yes | Lunadrop | Spirit +9 | Armor |
| Astral Wave Lunadrop | 65 | Yes | Lunadrop | Intelligence +9 | Armor |
| Miraculous Distorted Lunafrost | 150 | Yes | Lunafrost | Magic Defense +59 | Jewelry, Instrument |
| Miraculous Elemental Lunafrost | 150 | Yes | Lunafrost | Max Mana +37 | Jewelry, Instrument |
| Miraculous Fortitiude Lunafrost | 150 | Yes | Lunafrost | Defense + 59 | Jewelry, Instrument |
| Miraculous Giant Lunafrost | 150 | Yes | Lunafrost | Max Health +50 | Jewelry, Instrument |
| Miraculous Hostility Lunafrost | 150 | Yes | Lunafrost | Melee Attack +3 | Jewelry, Instrument |
| Miraculous Love Lunafrost | 150 | Yes | Lunafrost | Healing Power +3 | Jewelry, Instrument |
| Miraculous Tracker Lunafrost | 150 | Yes | Lunafrost | Ranged Attack +3 | Jewelry, Instrument |
| Miraculous Transcendent Lunafrost | 150 | Yes | Lunafrost | Magic Attack +3 | Jewelry, Instrument |
Alchemy Lunadrops
[
]
Item
Obtained From
Description
Restriction
Rank
Lucid Earth Lunadrop
Sealed Grand Earth Lunadrop
Stamina +4
Armor
4000
Lucid Earthen Fire Lunadrop
Sealed Grand Earth Lunadrop
Stamina +3, Strength +1
Armor
4000
Lucid Earthen Gale Lunadrop
Sealed Grand Earth Lunadrop
Stamina +3, Agility +1
Armor
4000
Lucid Earthen Life Lunadrop
Sealed Grand Earth Lunadrop
Stamina +3, Spirit +1
Armor
4000
Lucid Earthen Wave Lunadrop
Sealed Grand Earth Lunadrop
Stamina +3, Intelligence +1
Armor
4000
Radiant Earth Lunadrop
Sealed Grand Earth Lunadrop
Stamina +5
Armor
4000
Radiant Earthen Fire Lunadrop
Sealed Grand Earth Lunadrop
Stamina +3, Strength +2
Armor
4000
Radiant Earthen Gale Lunadrop
Sealed Grand Earth Lunadrop
Stamina +3, Agility +2
Armor
4000
Radiant Earthen Life Lunadrop
Sealed Grand Earth Lunadrop
Stamina +3, Spirit +2
Armor
4000
Radiant Earthen Wave Lunadrop
Sealed Grand Earth Lunadrop
Stamina +3, Intelligence +2
Armor
4000
Blazing Earth Lunadrop
Sealed Rare Earth Lunadrop
Stamina +6
Armor
10000
Blazing Earthen Fire Lunadrop
Sealed Rare Earth Lunadrop
Stamina +5, Strength +1
Armor
10000
Blazing Earthen Gale Lunadrop
Sealed Rare Earth Lunadrop
Stamina +5, Agility +1
Armor
10000
Blazing Earthen Life Lunadrop
Sealed Rare Earth Lunadrop
Stamina +5, Spirit +1
Armor
10000
Blazing Earthen Wave Lunadrop
Sealed Rare Earth Lunadrop
Stamina +5, Intelligence +1
Armor
10000
Beguiling Earth Lunadrop
Sealed Rare Earth Lunadrop
Stamina +7
Armor
10000
Beguiling Earthen Fire Lunadrop
Sealed Rare Earth Lunadrop
Stamina +5, Strength +2
Armor
10000
Beguiling Earthen Gale Lunadrop
Sealed Rare Earth Lunadrop
Stamina +5, Agility +2
Armor
10000
Beguiling Earthen Life Lunadrop
Sealed Rare Earth Lunadrop
Stamina +5, Spirit +2
Armor
10000
Beguiling Earthen Wave Lunadrop
Sealed Rare Earth Lunadrop
Stamina +5, Intelligence +2
Armor
10000
Lucid Fire Lunadrop
Sealed Grand Fire Lunadrop
Strength +4
Armor
4000
Lucid Flaming Earth Lunadrop
Sealed Grand Fire Lunadrop
Strength +3, Stamina +1
Armor
4000
Lucid Flaming Gale Lunadrop
Sealed Grand Fire Lunadrop
Strength +3, Agility +1
Armor
4000
Lucid Flaming Life Lunadrop
Sealed Grand Fire Lunadrop
Strength +3, Spirit +1
Armor
4000
Lucid Flaming Wave Lunadrop
Sealed Grand Fire Lunadrop
Strength +3, Intelligence +1
Armor
4000
Radiant Fire Lunadrop
Sealed Grand Fire Lunadrop
Strength +5
Armor
4000
Radiant Flaming Earth Lunadrop
Sealed Grand Fire Lunadrop
Strength +3, Stamina +2
Armor
4000
Radiant Flaming Gale Lunadrop
Sealed Grand Fire Lunadrop
Strength +3, Agility +2
Armor
4000
Radiant Flaming Life Lunadrop
Sealed Grand Fire Lunadrop
Strength +3, Spirit +2
Armor
4000
Radiant Flaming Wave Lunadrop
Sealed Grand Fire Lunadrop
Strength +3, Intelligence +2
Armor
4000
Blazing Fire Lunadrop
Sealed Rare Fire Lunadrop
Strength +6
Armor
10000
Blazing Flaming Earth Lunadrop
Sealed Rare Fire Lunadrop
Strength +5, Stamina +1
Armor
10000
Blazing Flaming Gale Lunadrop
Sealed Rare Fire Lunadrop
Strength +5, Agility +1
Armor
10000
Blazing Flaming Life Lunadrop
Sealed Rare Fire Lunadrop
Strength +5, Spirit +1
Armor
10000
Blazing Flaming Wave Lunadrop
Sealed Rare Fire Lunadrop
Strength +5, Intelligence +1
Armor
10000
Beguiling Fire Lunadrop
Sealed Rare Fire Lunadrop
Strength +7
Armor
10000
Beguiling Flaming Earth Lunadrop
Sealed Rare Fire Lunadrop
Strength +5, Stamina +2
Armor
10000
Beguiling Flaming Gale Lunadrop
Sealed Rare Fire Lunadrop
Strength +5, Agility +2
Armor
10000
Beguiling Flaming Life Lunadrop
Sealed Rare Fire Lunadrop
Strength +5, Spirit +2
Armor
10000
Beguiling Flaming Wave Lunadrop
Sealed Rare Fire Lunadrop
Strength +5, Intelligence +2
Armor
10000
Lucid Gale Lunadrop
Sealed Grand Gale Lunadrop
Agility +4
Armor
4000
Lucid Windy Earth Lunadrop
Sealed Grand Gale Lunadrop
Agility +3, Stamina +1
Armor
4000
Lucid Windy Fire Lunadrop
Sealed Grand Gale Lunadrop
Agility +3, Strength +1
Armor
4000
Lucid Windy Life Lunadrop
Sealed Grand Gale Lunadrop
Agility +3, Spirit +1
Armor
4000
Lucid Windy Wave Lunadrop
Sealed Grand Gale Lunadrop
Agility +3, Intelligence +1
Armor
4000
Radiant Gale Lunadrop
Sealed Grand Gale Lunadrop
Agility +5
Armor
4000
Radiant Windy Earth Lunadrop
Sealed Grand Gale Lunadrop
Agility +3, Stamina +2
Armor
4000
Radiant Windy Fire Lunadrop
Sealed Grand Gale Lunadrop
Agility +3, Strength +2
Armor
4000
Radiant Windy Life Lunadrop
Sealed Grand Gale Lunadrop
Agility +3, Spirit +2
Armor
4000
Radiant Windy Wave Lunadrop
Sealed Grand Gale Lunadrop
Agility +3, Intelligence +2
Armor
4000
Blazing Gale Lunadrop
Sealed Rare Gale Lunadrop
Agility +6
Armor
10000
Blazing Windy Earth Lunadrop
Sealed Rare Gale Lunadrop
Agility +5, Stamina +1
Armor
10000
Blazing Windy Fire Lunadrop
Sealed Rare Gale Lunadrop
Agility +5, Strength +1
Armor
10000
Blazing Windy Life Lunadrop
Sealed Rare Gale Lunadrop
Agility +5, Spirit +1
Armor
10000
Blazing Windy Wave Lunadrop
Sealed Rare Gale Lunadrop
Agility +5, Intelligence +1
Armor
10000
Beguiling Gale Lunadrop
Sealed Rare Gale Lunadrop
Agility +7
Armor
10000
Beguiling Windy Earth Lunadrop
Sealed Rare Gale Lunadrop
Agility +5, Stamina +2
Armor
10000
Beguiling Windy Fire Lunadrop
Sealed Rare Gale Lunadrop
Agility +5, Strength +2
Armor
10000
Beguiling Windy Life Lunadrop
Sealed Rare Gale Lunadrop
Agility +5, Spirit +2
Armor
10000
Beguiling Windy Wave Lunadrop
Sealed Rare Gale Lunadrop
Agility +5, Intelligence +2
Armor
10000
Lucid Life Lunadrop
Sealed Grand Life Lunadrop
Spirit +4
Armor
4000
Lucid Lively Earth Lunadrop
Sealed Grand Life Lunadrop
Spirit +3, Stamina +1
Armor
4000
Lucid Lively Fire Lunadrop
Sealed Grand Life Lunadrop
Spirit +3, Strength +1
Armor
4000
Lucid Lively Gale Lunadrop
Sealed Grand Life Lunadrop
Spirit +3, Agility +1
Armor
4000
Lucid Lively Wave Lunadrop
Sealed Grand Life Lunadrop
Spirit +3, Intelligence +1
Armor
4000
Radiant Life Lunadrop
Sealed Grand Life Lunadrop
Spirit +5
Armor
4000
Radiant Lively Earth Lunadrop
Sealed Grand Life Lunadrop
Spirit +3, Stamina +2
Armor
4000
Radiant Lively Fire Lunadrop
Sealed Grand Life Lunadrop
Spirit +3, Strength +2
Armor
4000
Radiant Lively Gale Lunadrop
Sealed Grand Life Lunadrop
Spirit +3, Agility +2
Armor
4000
Radiant Lively Wave Lunadrop
Sealed Grand Life Lunadrop
Spirit +3, Intelligence +2
Armor
4000
Blazing Life Lunadrop
Sealed Rare Life Lunadrop
Spirit +6
Armor
10000
Blazing Lively Earth Lunadrop
Sealed Rare Life Lunadrop
Spirit +5, Stamina +1
Armor
10000
Blazing Lively Fire Lunadrop
Sealed Rare Life Lunadrop
Spirit +5, Strength +1
Armor
10000
Blazing Lively Gale Lunadrop
Sealed Rare Life Lunadrop
Spirit +5, Agility +1
Armor
10000
Blazing Lively Wave Lunadrop
Sealed Rare Life Lunadrop
Spirit +5, Intelligence +1
Armor
10000
Beguiling Life Lunadrop
Sealed Rare Life Lunadrop
Spirit +7
Armor
10000
Beguiling Lively Earth Lunadrop
Sealed Rare Life Lunadrop
Spirit +5, Stamina +2
Armor
10000
Beguiling Lively Fire Lunadrop
Sealed Rare Life Lunadrop
Spirit +5, Strength +2
Armor
10000
Beguiling Lively Gale Lunadrop
Sealed Rare Life Lunadrop
Spirit +5, Agility +2
Armor
10000
Beguiling Lively Wave Lunadrop
Sealed Rare Life Lunadrop
Spirit +5, Intelligence +2
Armor
10000
Lucid Wave Lunadrop
Sealed Grand Wave Lunadrop
Intelligence +4
Armor
4000
Lucid Tidal Earth Lunadrop
Sealed Grand Wave Lunadrop
Intelligence +3, Stamina +1
Armor
4000
Lucid Tidal Fire Lunadrop
Sealed Grand Wave Lunadrop
Intelligence +3, Strength +1
Armor
4000
Lucid Tidal Gale Lunadrop
Sealed Grand Wave Lunadrop
Intelligence +3, Agility +1
Armor
4000
Lucid Tidal Life Lunadrop
Sealed Grand Wave Lunadrop
Intelligence +3, Spirit +1
Armor
4000
Radiant Wave Lunadrop
Sealed Grand Wave Lunadrop
Intelligence +5
Armor
4000
Radiant Tidal Earth Lunadrop
Sealed Grand Wave Lunadrop
Intelligence +3, Stamina +2
Armor
4000
Radiant Tidal Fire Lunadrop
Sealed Grand Wave Lunadrop
Intelligence +3, Strength +2
Armor
4000
Radiant Tidal Gale Lunadrop
Sealed Grand Wave Lunadrop
Intelligence +3, Agility +2
Armor
4000
Radiant Tidal Life Lunadrop
Sealed Grand Wave Lunadrop
Intelligence +3, Spirit +2
Armor
4000
Blazing Wave Lunadrop
Sealed Rare Wave Lunadrop
Intelligence +6
Armor
10000
Blazing Tidal Earth Lunadrop
Sealed Rare Wave Lunadrop
Intelligence +5, Stamina +1
Armor
10000
Blazing Tidal Fire Lunadrop
Sealed Rare Wave Lunadrop
Intelligence +5, Strength +1
Armor
10000
Blazing Tidal Gale Lunadrop
Sealed Rare Wave Lunadrop
Intelligence +5, Agility +1
Armor
10000
Blazing Tidal Life Lunadrop
Sealed Rare Wave Lunadrop
Intelligence +5, Spirit +1
Armor
10000
Beguiling Wave Lunadrop
Sealed Rare Wave Lunadrop
Intelligence +7
Armor
10000
Beguiling Tidal Earth Lunadrop
Sealed Rare Wave Lunadrop
Intelligence +5, Stamina +2
Armor
10000
Beguiling Tidal Fire Lunadrop
Sealed Rare Wave Lunadrop
Intelligence +5, Strength +2
Armor
10000
Beguiling Tidal Gale Lunadrop
Sealed Rare Wave Lunadrop
Intelligence +5, Agility +2
Armor
10000
Beguiling Tidal Life Lunadrop
Sealed Rare Wave Lunadrop
Intelligence +5, Spirit +2
Armor
10000
See also
[
]