Mahadevi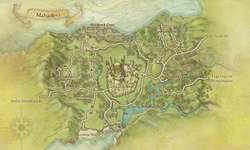 Mahadevi is one of Haranya's zones with a tropical climate. The northern part of the zone is near the coast. It is covered in lush, green jungles.
Located near the middle of the zone is the City of Towers. Located in the City of Towers are many crafting workbenches and merchants. It also houses the Palace Cellar dungeon.
Housing areas surround the City of Towers. Mahadevi has the Ship Community Center.