We're Getting Mutants in the MCU - The Loop
Play Sound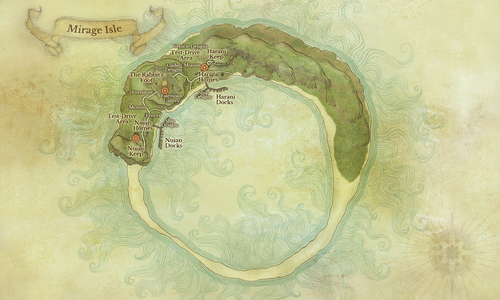 Overview
[
]
Mirage Island is the main trade hub in ArcheAge. It houses vendors for pretty much every major purchase you can make in the game.

How Do I Get There?
[
]

Players can access Mirage Island from many portals placed across the world.
They are shown as a green swirling icon on the map.

Things to Buy
[
]
Mounts
[
]
Name
Cost
Speed
Speed w/ Pack
Abilities (mouse-over)
Dairy Cow
5 
7 m/s
1.4 m/s

Black Lilyut Horse

50

 

0

 

0

 
10.0 m/s
1.8 m/s
Alabaster Lilyut Horse

50

 

0

 

0

 
10.0 m/s
1.8 m/s
Dappled Lilyut Horse

50

 

0

 

0

 
10.0 m/s
1.8 m/s
Gliders
[
]
Glider
Blueprint Price
Flight Time
Abilities (mouse-over)
Flight Speed
Gliding Ability
Turning Speed
Initial Speed
Experimental Glider1

5

 

0

 
2m
N/A
Low
Low
Low
Low
Improved Glider

25

 

0

 
2m
Moderate
Low
Low
Low
Enhanced Glider

50

 

0

 
2m
Moderate
Low
Moderate
Moderate
Ultimate Glider

1

 

0

 

0

 
2m
High
High
Moderate
Moderate
Red Dragon Glider
150
-
High
High
Moderate
Moderate
Moonshadow Glider
150
-
High
High
Moderate
Moderate
Thunderbolt Glider
150
-
High
High
Moderate
Moderate
Ezi's Glider
150
-
High
High
Moderate
Moderate
Vehicles
[
]
Ships
[
]
Name
Speed
HP
Plan Cost
Reagents
Abilities
Picture
Placement
Construction
Adventure Clipper
11.1m/s
7000
x50
x1, x1, x1
Features: Cannon(1), Oxygen Cylinders(2), Lanterns(2), Portable Harpoon Cannon(1)
Harpoon Clipper
11.1m/s
7000
x50
x1, x1, x1
Features: Harpoon Cannon(1), Oxygen Cylinders(2), Lanterns(2), Portable Harpoon Cannon(1)
Merchant Ship
10m/s
40000
x500

x100

x2, x3, x3
Features: Sextant(1), Cannons(2), Trade Pack Storage(20)
Fish-Find Longliner
8,3m/s
30000
x500
x1, x1, x1, x1
x2, x2, x2
Features: - Fishfinder (1), Trade Pack Storage (3), Small/Medium Fish Storage (5), Large Fish Hooks (2)
Lutesong Junk
10.8m/s
50000
x500

x100

x5, x5, x5
Features: Sextant(1), Cannons(8), Oxygen Cylinders(6), Trade Pack Storage(4), On Deck Radar and War Drum
Eznan Cutter
10.8m/s
50000
x500

x100

x5, x5, x5
Features: Sextant(1), Cannons(8), Oxygen Cylinders(6), Trade Pack Storage(4), Crows Nest Radar and Alarm Bell
Houses
[
]
Cottages
[
]
| Name | Plan Cost | Construction Material | Dimensions | Decor Limit |
| --- | --- | --- | --- | --- |
| Rustic Spring Cottage | 15  | 1x , 2x | 16m x 16m | 45 Items |
| Stone Spring Cottage | 15  | 2x , 1x | 16m x 16m | 45 Items |
| Tudor Spring Cottage | 15  | 2x , 1x | 16m x 16m | 45 Items |
| Rustic Slate Cottage | 15  | 1x , 2x | 16m x 16m | 45 Items |
| Stone Slate Cottage | 15  | 2x , 1x | 16m x 16m | 45 Items |
| Tudor Slate Cottage | 15  | 2x , 1x | 16m x 16m | 45 Items |
| Rustic Rose Cottage | 15  | 1x , 2x | 16m x 16m | 45 Items |
| Stone Rose Cottage | 15  | 2x , 1x | 16m x 16m | 45 Items |
| Tudor Rose Cottage | 15  | 2x , 1x | 16m x 16m | 45 Items |
Manors
[
]
| Name | Plan Cost | Construction Material | Dimensions | Decor Limit |
| --- | --- | --- | --- | --- |
| Rustic Spring Manor | 200  | 10x , 10x | 24m x 24m | 100 Items |
| Stone Spring Manor | 200  | 15x , 5x | 24m x 24m | 100 Items |
| Tudor Spring Manor | 200  | 15x , 5x | 24m x 24m | 100 Items |
| Rustic Slate Manor | 200  | 10x , 10x | 24m x 24m | 100 Items |
| Stone Slate Manor | 200  | 15x , 5x | 24m x 24m | 100 Items |
| Tudor Slate Manor | 200  | 15x , 5x | 24m x 24m | 100 Items |
| Rustic Rose Manor | 200  | 10x , 10x | 24m x 24m | 100 Items |
| Stone Rose Manor | 200  | 15x , 5x | 24m x 24m | 100 Items |
| Tudor Rose Manor | 200  | 15x , 5x | 24m x 24m | 100 Items |
| Swept-Roof Manor | 200  | 15x , 5x | 24m x 24m | 100 Items |
Townhouses
[
]
| Name | Plan Cost | Construction Material | Dimensions | Decor Limit |
| --- | --- | --- | --- | --- |
| Rustic Spring Townhouse | 300  | 10x , 5x , 10x | 24m x 24m | 100 Items |
| Stone Spring Townhouse | 300  | 15x , 5x , 5x | 24m x 24m | 100 Items |
| Tudor Spring Townhouse | 300  | 15x , 5x , 5x | 24m x 24m | 100 Items |
| Rustic Slate Townhouse | 300  | 10x , 5x , 10x | 24m x 24m | 100 Items |
| Stone Slate Townhouse | 300  | 15x , 5x , 5x | 24m x 24m | 100 Items |
| Tudor Slate Townhouse | 300  | 15x , 5x , 5x | 24m x 24m | 100 Items |
| Rustic Rose Townhouse | 300  | 10x , 5x , 10x | 24m x 24m | 100 Items |
| Stone Rose Townhouse | 300  | 15x , 5x , 5x | 24m x 24m | 100 Items |
| Tudor Rose Townhouse | 300  | 15x , 5x , 5x | 24m x 24m | 100 Items |
Villa
[
]
| Name | Plan Cost | Construction Material | Dimensions | Decor Limit |
| --- | --- | --- | --- | --- |
| Rustic Spring Villa (Porch) | 400  | 20x , 10x , 20x | 28m x 28m | 150 Items |
| Stone Spring Villa (Porch) | 400  | 30x , 10x , 10x | 28m x 28m | 150 Items |
| Tudor Spring Villa (Porch) | 400  | 30x , 10x , 10x | 28m x 28m | 150 Items |
| Rustic Slate Villa (Porch) | 400  | 20x , 10x , 20x | 28m x 28m | 150 Items |
| Stone Slate Villa (Porch) | 400  | 30x , 10x , 10x | 28m x 28m | 150 Items |
| Tudor Slate Villa (Porch) | 400  | 30x , 10x , 10x | 28m x 28m | 150 Items |
| Rustic Rose Villa (Porch) | 400  | 20x , 10x , 20x | 28m x 28m | 150 Items |
| Stone Rose Villa (Porch) | 400  | 30x , 10x , 10x | 28m x 28m | 150 Items |
| Tudor Rose Villa (Porch) | 400  | 30x , 10x , 10x | 28m x 28m | 150 Items |
| Rustic Spring Villa (Veranda) | 400  | 20x , 10x , 20x | 28m x 28m | 150 Items |
| Stone Spring Villa (Veranda) | 400  | 30x , 10x , 10x | 28m x 28m | 150 Items |
| Tudor Spring Villa (Veranda) | 400  | 30x , 10x , 10x | 28m x 28m | 150 Items |
| Rustic Slate Villa (Veranda) | 400  | 20x , 10x , 20x | 28m x 28m | 150 Items |
| Stone Slate Villa (Veranda) | 400  | 30x , 10x , 10x | 28m x 28m | 150 Items |
| Tudor Slate Villa (Veranda) | 400  | 30x , 10x , 10x | 28m x 28m | 150 Items |
| Rustic Rose Villa (Veranda) | 400  | 20x , 10x , 20x | 28m x 28m | 150 Items |
| Stone Rose Villa (Veranda) | 400  | 30x , 10x , 10x | 28m x 28m | 150 Items |
| Tudor Rose Villa (Veranda) | 400  | 30x , 10x , 10x | 28m x 28m | 150 Items |
| Rustic Spring Villa (Sunroom) | 400  | 20x , 10x , 20x | 28m x 28m | 150 Items |
| Stone Spring Villa (Sunroom) | 400  | 30x , 10x , 10x | 28m x 28m | 150 Items |
| Tudor Spring Villa (Sunroom) | 400  | 30x , 10x , 10x | 28m x 28m | 150 Items |
| Rustic Slate Villa (Sunroom) | 400  | 20x , 10x , 20x | 28m x 28m | 150 Items |
| Stone Slate Villa (Sunroom) | 400  | 30x , 10x , 10x | 28m x 28m | 150 Items |
| Tudor Slate Villa (Sunroom) | 400  | 30x , 10x , 10x | 28m x 28m | 150 Items |
| Rustic Rose Villa (Sunroom) | 400  | 20x , 10x , 20x | 28m x 28m | 150 Items |
| Stone Rose Villa (Sunroom) | 400  | 30x , 10x , 10x | 28m x 28m | 150 Items |
| Tudor Rose Villa (Sunroom) | 400  | 30x , 10x , 10x | 28m x 28m | 150 Items |
Chalet
[
]
| Name | Plan Cost | Construction Material | Dimensions | Decor Limit |
| --- | --- | --- | --- | --- |
| Stone Spring Chalet | 500  | 50x , 15x , 20x | 28m x 28m | 150 Items |
| Tudor Spring Chalet | 500  | 50x , 15x , 20x | 28m x 28m | 150 Items |
| Rustic Slate Chalet | 500  | 50x , 15x , 20x | 28m x 28m | 150 Items |
| Tudor Slate Chalet | 500  | 50x , 15x , 20x | 28m x 28m | 150 Items |
| Tudor Rose Chalet | 500  | 25x , 15x , 45x | 28m x 28m | 150 Items |
| Rustic Rose Chalet | 500  | 25x , 15x , 45x | 28m x 28m | 150 Items |
| Stone Spring Chalet (Terrace) | 500  | 50x , 15x , 20x | 28m x 28m | 150 Items |
| Tudor Spring Chalet (Terrace) | 500  | 50x , 15x , 20x | 28m x 28m | 150 Items |
| Rustic Slate Chalet (Terrace) | 500  | 50x , 15x , 20x | 28m x 28m | 150 Items |
| Tudor Slate Chalet (Terrace) | 500  | 50x , 15x , 20x | 28m x 28m | 150 Items |
| Tudor Rose Chalet (Terrace) | 500  | 25x , 15x , 45x | 28m x 28m | 150 Items |
| Rustic Rose Chalet (Terrace) | 500  | 25x , 15x , 45x | 28m x 28m | 150 Items |
| Stone Spring Chalet (Balcony) | 500  | 50x , 15x , 20x | 28m x 28m | 150 Items |
| Tudor Spring Chalet (Balcony) | 500  | 50x , 15x , 20x | 28m x 28m | 150 Items |
| Rustic Slate Chalet (Balcony) | 500  | 50x , 15x , 20x | 28m x 28m | 150 Items |
| Tudor Slate Chalet (Balcony) | 500  | 50x , 15x , 20x | 28m x 28m | 150 Items |
| Tudor Rose Chalet (Balcony) | 500  | 25x , 15x , 45x | 28m x 28m | 150 Items |
| Rustic Rose Chalet (Balcony) | 500  | 25x , 15x , 45x | 28m x 28m | 150 Items |
Farm Houses
[
]
Tree Houses
[
]
Marine
[
]
Breezy Bungalow
[
]
| Name | Plan Cost | Construction Material | Dimensions | Decor Limit |
| --- | --- | --- | --- | --- |
| Breezy Bungalow | 300  | 5x , 5x , 10x | 24m x 24m | 100 Items |
Aquafarm
[
]
| Name | Plan Cost | Construction Material | Dimensions | Decor Limit |
| --- | --- | --- | --- | --- |
| Aquafarm | 20  | None | 16m x 16m | 50 Items |
Fences & Furniture
[
]
Castles
[
]
Clothing
[
]