Snowlion
The Snowlion is the default mount of the Firran Race. The Snowlion comes in three varieties - Coalmane, Snowmane, and Sandmane.
It can be obtained from the Raising Your Snowlion quest chain in Falcorth Plains.
Other races may obtain these mounts for 10 

at the stables of Cloudgrain in Falcorth Plains.
| Icon | Speed | With Trade Pack | Lvl 50 Purchasable Shining Legguards |
| --- | --- | --- | --- |
| | 9.0 m/s | 1.8 m/s | 9,45 m/s |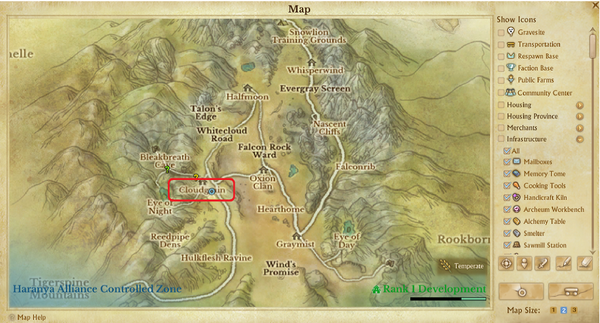 | Icon | Level | Skill | Effect |
| --- | --- | --- | --- |
| | 5 | Run! | Increases mount's Move Speed +50% for 5sec. (Can't be used while carrying a trade pack) |
| | 10 | Mounted Arrowshot | Fires and arrow at an enemy, dealing Physical Damage equal to 80% of the rider's ranged attack. |
| | 15 | Overrun | Triggers a charge that can Stun a distant enemy for 2sec (Can't be used while carrying a trade pack) |
| | 20 | Anabolica | Increases the pet's and rider's Attack +30% for 30sec. (Canceled if you dismount) |
| | 25 | Dash | Triggers a forward charge for 3sec that makes you invincible. (Can't be used while carrying a trade pack) |