Jurassic World: Dominion Dominates Fandom Wikis - The Loop
Play Sound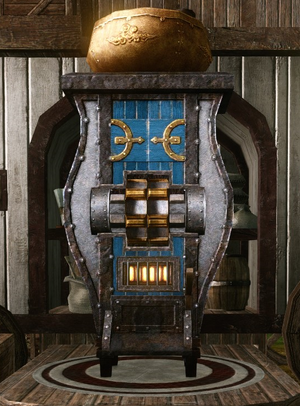 Trade Packages are items used in Trading. There are regular Trade Packs and Cargo Packs. Bringing a Trade Package to a Specialty Buyer at a Trade Outlet will reward the player with Gold or Gilda Stars. For regular Trade Packs the further the distance traveled, the greater the reward. For Cargo Packs the faster the Pack moved to its target, the greater the reward.
Trade Packs are not inventory items, but are worn like equipment on the back. This will greatly reduce a player's movement speed, including while riding on any mount - except for donkeys. Player attempting to move packages should seek efficient ways of travel such as carriages, airships, donkeys, personal vehicles or ships.
Storage & Ownership
[
]
Trade Packages can be dropped, where it can be picked up by any other player. Players often engage in PvP in order to take each other's Trade Packages - be careful when going across PvP zones. Trade Packages expire within 6 days. Simply picking it up and placing it back down will reset the timer.
When a Trade Package is delivered, 80% of its profit goes to the player who delivered it, while 20% goes to the player who crafted it. Trade Packs may be placed on player owned land as well, as long as the right permissions are set. Besides those who have permission to use the farm it is protected from the public. A Trade Pack will say "Free loot" on the mouse tool tip when hovering over it if it's not on protected land.
The "Owner" tag on the mouseover tool tip displays whoever handled the pack last; to check who the crafter is, open up the character menu and look in the "Trade Pack" slot on the bottom right.
Workbenches and all forms of turn in points are shown on the map. You may have to tick the respective check boxes to have them shown.
Source
[
]
Trade Packages must be crafted. Each region has its own unique Trade Packages, with different crafting ingredients. Crafting efficiency and labor cost is reduced with Commerce skill level. There are 3 types of regular trade packs:
Western Trade Packages
[
]
Eastern Trade Packs
[
]
Rokhala

[

]
| Workstation | Package Name | Materials |
| --- | --- | --- |
| Community Centre Workbench | Sunbite Commercial Specialty | 180x  Medicinal Powder, 15x  Azalea |
| Community Centre Workbench | Sunbite Commercial Gilda Specialty | 1x Gilda Star, 160x  Ground Spices, 5x  Apple |
| Community Centre Workbench | Sunbite Commercial Local (Also Fellowship) | 150x Dried Flowers, 5x  Yam |
Multi-Purpose Aging Larder
[
]
General Information
[
]
A multi-purpose aging larder allows the player to age particular goods to be harvested at a later time as a trade pack. This trade pack can then be turned in anywhere but the originating zone.
These function exactly the same as a regular trade pack, except that they are worth more to the trader. There are three types of packs that can be crafted:
Aged Honey
Aged Cheese
Aged Salve
They are all equal in value to the trader, it is up to the crafter to decide what materials they want to add to the larder.
Crafting
[
]
Crafting a larder requires a
Farmer's Workstation, under Husbandry>Husbandry Gear. The materials needed are:
The base crafting cost is 65 labor and 1 gold, the labor cost can be lowered with higher Husbandry proficiency. Harvesting the completed larders costs 60 base labor and increases the Husbandry proficiency.
Intercontinental Trade Routes
[
]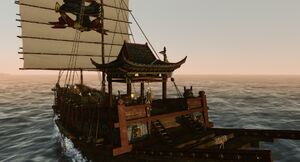 Cargo Oversea Packs can only be sold oversea to special Cargo Buyers. They give the option to trade Certified Cargo Packs and these reward Charcoal Stabilizers at regular cities or Dragon Essence Stabilizer at Freedich Island.
The Rock Salt and Crystal Stabilizers can no longer be obtained by selling trade packs to Resource Merchants, but can easily be converted to Charcoal Stabilizers.
Gilda Trader
[
]
No more gilda trader on 6.0
See Also
[
]
[outdated] List of Rewards for Continental and Intercontinental Traderuns